The Meatgrinder Madrigal In Focus At Sulger Buel Lovell Gallery
Modern Ghana | 15 June 2018 | General News
Interview by Wilfred Clarke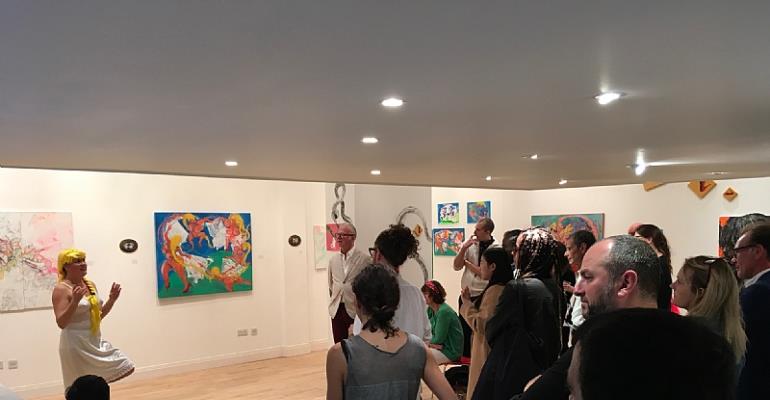 Combining passion, drive and initiation Isabelle Grobler creatively squeaks, moans, groans, acts and plays her narrative imaginations through her 'body' of work showing in Sulger Buell Lovell's Gallery at 51 Surrey Row, Unit 2 La Gare, London SE1 0BZ from 12th of June until the 7th of July 2018.
The latest exhibition by the young South African artist known as Isabelle Grobler is likely to provoke, intrigue, shock, delight, amuse and probably confuse one's art sensitivities in equal measure.
She is popularly known for her sculptural installations which metamorphose with industrial found objects into fleshy organic forms by focusing on two-dimensional works for the most part.
The presence of her energy and emotions seep through the foundations upon which her artistic knowledge, beliefs and ideology is built on. And these elements are obvious arguably to the naked eye.
Isabelle bares all in 'The Meat-Grinder-Madrigal' by playing with words such as 'Dream' 'Abundancy' 'Insufficiency' 'Fertility' and 'Civilization' from imagination to reality through the discovery of the biblical era's bond between the human race as well as the animal kingdom.
As to how she weaves all these words into her work of art she said: "I like to combine all these in my own contextual way".
And to all those who fancy her work, there is so much to look out for as she continued "I don't like repetition, so in my next work, I would be taking things on a '3-Dimentional level".
In The Meat-grinder Madrigal, the artist spins a dense and complex web of narrative, allusion and dark humour to create a new mythos, making classical works from art history serving as her 'found objects' as believed by her curator Andrew Lamprecht.
Her paintings, drawings and prints operate in a space that uniquely reflects the innovation and exciting inimitable imagination and quirky take on "the life we live now", conveyed in the form of a magnificent and meandering creation of an epic narrative.
Reflecting and critiquing the banalities, complexities and eccentricities of suburbia, Grobler normally creates a larger-than-life tableau of creation, self-discovery and inevitable fall.
Her work is a typical multiplications and additions of dark and humour, suffusing and jockeying with a real sense of revulsion for the trappings of the contemporary consumerist society and the compromises required to appear as 'normal' in the modern world.
Having curated over twenty exhibitions as a writer, art historian and theorist with a special interest in contemporary African art, Andrew Lamprecht, a senior lecturer at the Michaelis School of Fine Art, University of Cape is the person in charge of the exhibition's curation.
And according to him the exhibition stands as a painterly sculptural installation: a story conveyed on canvas, defying of the strictures of its two-dimensional bounds, which is an exercise in organic growth (perhaps gone wild).
The Meat-grinder Madrigal promises to give a heady insight into the way that contemporary painting is able to defy language and to present commentary without recourse to words. This is how Mr Andrew Lamprecht's perspective best describes the projections of the exhibition.
The highlight of the exhibition was a wonderful and eclectic performance by Isabelle Grobler on the opening night.
She was able to dazzle almost every spectator in awe of her artistic antics. She did it by activating, elevating and captivating her body of work in leaving art patrons and fellow invitees with some profound memories.
The total beauty and constructs of Isabelle Grobler's artistic work, is arguably objective, subjective, initiative, reflective and relative to each individual's own interpretations.
Isabelle Grobler is playing with art in Sulger-Buel Lovell's Gallery.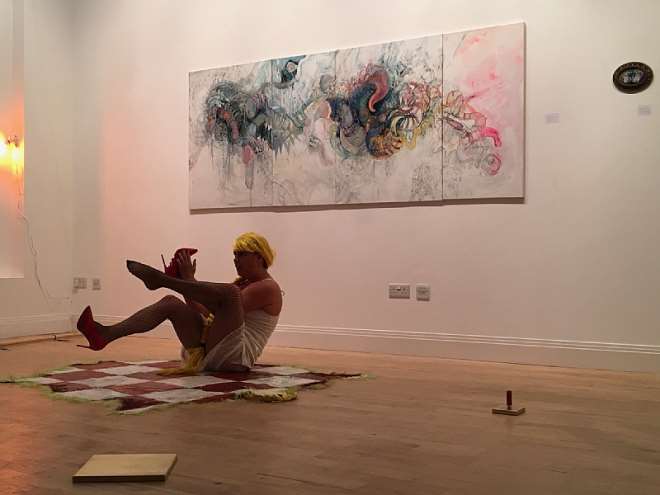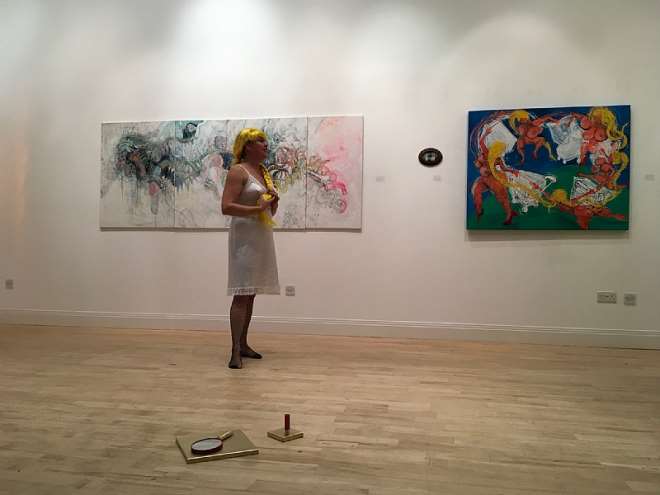 Image credit: Wilfred Clarke & Isabelle Grobler in front of 'The Dance' 2018 Enamel on canvas 89x122cm | Images from 'Sacrifice' performed by Isabelle Grobler
To view the feature on Modern Ghana online media portal please click here
To read more about the exhibition or to download the catalogue please click here